The Manufacturing Engineering Society International Conference (MESIC) was born in the shelter of the Manufacturing Engineering Society to fulfill one of the main founding objectives: the creation of forums to exchange expertise in Manufacturing Engineering field.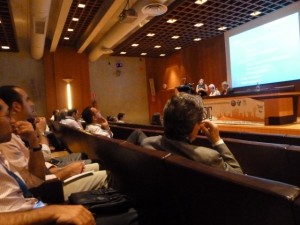 This event is biannual and has international scope, its first edition(named Manufacturing Engineering Society International Conference, CISIF-MESIC'05), took place in Calatayud on september 2005. The preceding venues have been Madrid (2007), Alcoy (2009), Cádiz (2011), Zaragoza (2013),  Barcelona  (2015), Vigo (2017), Madrid (2019) and Gijón (2021).
The Conferences are a meeting point between Manufacturing Engineering researchers and teachers. The structure is traditionally organized around this symposiums or areas:
1 Advances and innovations in manufacturing processes

Moulding & Forming
Material removal
Non-traditional manufacturing
Welding, joining and assembly
Micro and nano-manufacturing
Additive manufacturing processes and technologies (AM)
Hybrid manufacturing processes
Equipment and Tooling
Emerging manufacturing processes

2 Trends in manufacturing systems

Integrated development of products and processes
Design for manufacturing and assembly (DFMA)
Adaptive and intelligent manufacturing systems
Rapid product development and manufacturing
Holonic manufacturing systems (HMS)
Knowledge-based engineering systems (KBE)
Lean manufacturing
Energy efficiency, sustainability and green manufacturing
Ergonomics in manufacturing

3 Precision engineering and Metrology

Dimensioning and Tolerancing
Inspection and Testing
Measurement systems and techniques
Industrial Quality
Monitoring, sensing and control for manufacturing and inspection
Virtual Metrology

4 Technologies for supporting manufacturing engineering and systems

CAD/CAPP/CAM/CAE/CAx/CIM
PDM-PLM
BPM, BPLM, BIM
Mechatronics, automation and robotic applications in manufacturing
Sensors, actuators, equipment development, tooling and control for enhancing manufacturing processes

5 Factory of the future and Industry 4.0

Methodologies and techniques towards Industry 4.0
Technologies for the integration of manufacturing systems in Industry 4.0
Methods and tools for organization and management of manufacturing systems in Industry 4.0
Digital integration of engineering activities through the whole value chain
Vertical integration and networked manufacturing systems

6 Manufacturing engineering in society

Training and education in manufacturing engineering
Development of manufacturing engineering learning environments
New trends and training strategies in manufacturing education
History and evolution of manufacturing technologies
Industrial heritage in Manufacturing
Social impact of Manufacturing
Occupational health, safety and welfare in Manufacturing
The MESIC editions have enjoyed great national and international response, receiving a lot of communications from Europe, United States, Ibero-America and Asia.